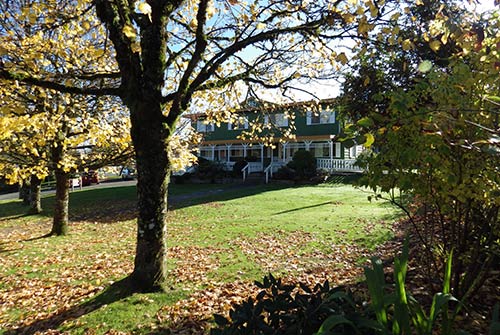 District Staff are limiting walk-in enquiries at this time. Please email or call the Staff with your enquiry and for information about paying your taxes visit https://ucluelet.ca/community/finance.
If you need to visit us in person, the District Office is open between 8:30 AM and 4:00 PM, Monday to Friday (except on statutory holidays).
To help prevent the spread of COVID-19:
only one member of the public may enter the District office at a time;
2 metre distance must be maintained between visitors at all times;
visitors must wash or sanitize hands before and after attending the office; and
visitors must follow the directional arrows.
Do not enter the District office if you:
have a fever, chills, new or worsening cough, shortness of breath, new muscle aches, new headache, or a sore throat;
have travelled outside of Canada within the last 14 days; or
are in close contact with a person who tested positive for COVID-19 or is experiencing any symptoms identified above.
For more information about the District's response to COVID-19 please visit https://ucluelet.ca/community/covid-19-update.
Email
This email address is being protected from spambots. You need JavaScript enabled to view it.
Your email will be reviewed within one business day.
Telephone (General Enquiries)
Phone: 250-726-7744
Address
200 Main Street
Ucluelet, BC
V0R 3A0
Mailing Address
PO BOX 999
Ucluelet, BC
V0R 3A0
Fax
Number: 250-726-7335
For after hours emergencies (4:30pm to 8:00am) please call 250-726-8587
This includes any issue that requires a work crew's attention outside of regular hours, such as:
water or sewer main breaks
dangerous debris or fallen trees on a street
damaging potholes
Directory
Contact
Mayor and Council

Email correspondence for Mayor and Council

Mayco Noël - Mayor

Rachelle Cole - Councillor

Jennifer Hoar - Councillor

Lara Kemps - Councillor

Marilyn McEwen - Councillor

This email address is being protected from spambots. You need JavaScript enabled to view it. or phone and leave a message 250-726-7744

This email address is being protected from spambots. You need JavaScript enabled to view it.

This email address is being protected from spambots. You need JavaScript enabled to view it.

This email address is being protected from spambots. You need JavaScript enabled to view it.

This email address is being protected from spambots. You need JavaScript enabled to view it.

This email address is being protected from spambots. You need JavaScript enabled to view it.

Administration and Finance

Mark Boysen - Chief Administrative Officer (CAO)

Joseph Rotenberg - Manager of Corporate Services

Nicole Morin - Corporate / Planning Clerk

Donna Monteith - Director of Finance

Tamara Nelson - Finance Manager

Lyvi Rivera - Senior Finance Clerk

Richard Lindsay - Finance & Administration Clerk

Darcey Bouvier - Administration Clerk

General Finance Enquiries

Make a Comment or Complaint

Report a Bylaw Infraction

This email address is being protected from spambots. You need JavaScript enabled to view it. 250-726-7744 ext. 224

jrotenberg@ucluelet.ca 250-726-7744 ext. 228

This email address is being protected from spambots. You need JavaScript enabled to view it. 250-726-7744 ext. 228

This email address is being protected from spambots. You need JavaScript enabled to view it. 250-726-7744 ext. 225

This email address is being protected from spambots. You need JavaScript enabled to view it. 250-726-7744 ext. 229

This email address is being protected from spambots. You need JavaScript enabled to view it. 250-726-7744 ext. 226

This email address is being protected from spambots. You need JavaScript enabled to view it. 250-726-7744 ext. 231

This email address is being protected from spambots. You need JavaScript enabled to view it. 250-726-7744 ext. 222

This email address is being protected from spambots. You need JavaScript enabled to view it.

This email address is being protected from spambots. You need JavaScript enabled to view it. 250-726-7744

This email address is being protected from spambots. You need JavaScript enabled to view it. 250-726-7744

Planning, Building and Permits, and Bylaw

Bruce Greig - Manager of Community Planning

John Towgood - Planner 1

Nicholas Henderson - Building Inspector

Brent Ashton - Bylaw Officer

This email address is being protected from spambots. You need JavaScript enabled to view it. 250-726-7744 ext. 227

This email address is being protected from spambots. You need JavaScript enabled to view it. 250-726-7744 ext. 223

This email address is being protected from spambots. You need JavaScript enabled to view it. 250-726-7744 ext. 235

This email address is being protected from spambots. You need JavaScript enabled to view it. 250-726-7744 ext. 238

Public Works & Parks

Warren Cannon - Manager of Operations

Brent Taron - Public Works Foreman

This email address is being protected from spambots. You need JavaScript enabled to view it. 250-726-7744 ext. 230

Cell: 250-726-5507

250-726-7133

Cell: 250-266-0598

Recreation & Tourism

Abby Fortune - Manager of Recreation & Tourism

Barb Gudbranson - Recreation Programmer

Judy Bloedorn - Recreation Assistant

Toni Buston - Youth Coordinator

Reception - Ucluelet Community Centre

This email address is being protected from spambots. You need JavaScript enabled to view it. 250-726-7744 ext. 234

This email address is being protected from spambots. You need JavaScript enabled to view it. 250-726-7772 ext. 223

This email address is being protected from spambots. You need JavaScript enabled to view it. 250-726-7772 ext. 221

This email address is being protected from spambots. You need JavaScript enabled to view it. 250-726-7772

This email address is being protected from spambots. You need JavaScript enabled to view it. 250-726-7772

Emergency Services

Rick Geddes - Fire Chief

This email address is being protected from spambots. You need JavaScript enabled to view it. 250-726-7744 ext. 233