If you wish to submit correspondence to Council on the zoning changes for B&B's and Accessory Residential Dwelling Units contemplated in Bylaw No. 1310 please attend the public hearing on June 28th, or submit a letter to This email address is being protected from spambots. You need JavaScript enabled to view it.. If you wish to submit correspondence to Council specific to the proposed B&B Overlay that would be established by Bylaw No. 1311, you can also submit your letter to This email address is being protected from spambots. You need JavaScript enabled to view it..
---
Understanding Proposed Changes- Bylaw 1310 & Bylaw 1311
Ucluelet is at a crossroads. Like many communities across the country, housing affordability has become an issue at the forefront of concerns for most households. This is an issue for both community members and business owners; increasingly, housing issues are translating into staffing issues. Housing is also a health issue; the availability of secure and affordable housing (or the lack) affects the health of individuals and families.
The character of Ucluelet and the fabric of the community depends on people being able to see a long-term path to stable housing that will meet their family's needs. Households make long-term decisions on where they will invest their time and money, where they will raise kids, volunteer and put down roots. These individual decisions affect how a community functions and how it defines itself. If it wishes to keep its values then Ucluelet, like many communities, will need to take an active role in addressing local housing issues on many fronts. The Ucluelet Housing Needs Assessment identifies in detail the challenges being faced by Ucluelet residents. Limiting the proliferation of B&B's in residential neighbourhoods is one step that Ucluelet can take to improve housing access and affordability.
Council is considering bylaw changes to take action on the following goals aimed at improving the availability and affordability of housing in the community:
Prioritize long-term residential housing

Slow and contain the proliferation of short-term vacation rentals within residential neighbourhoods

Create opportunities for more diverse and new forms of housing, with a priority on more affordable forms of housing

Create opportunities for the development of new rental housing.
---
Current Action
On May 31st, Council gave 1st and 2nd reading to Ucluelet Zoning Amendment Bylaw No. 1310. This Bylaw would shift the permitted uses in all single-family residential zones so that the priority uses in residential neighbourhoods are for housing Ucluelet residents and families. The bylaw would:
Remove Bed & Breakfast as a permitted secondary use from all single-family residential zone

In its place, add Accessory Residential Dwelling Unit (ADU) as a permitted use on existing single family lots in all residential zones (an ADU is commonly thought of as a cabin or cottage)
Bylaw No. 1310 will be the subject of a Public Hearing held June 28, 2022. Everyone who has an opinion on these proposed changes has an opportunity to address Council in person, by Zoom or in This email address is being protected from spambots. You need JavaScript enabled to view it. ahead of the hearing. For more background information and details, read the staff report to Council or watch the YouTube recording of the Council Meeting where the report was presented:
Read Staff Report from May 31, 2022
The intent is not to "ban" B&B's, but to shift from short-term vacation rentals being the default option, and instead prioritize different forms of long-term housing as the primary set of uses on residential properties. This is about slowing the spread of new B&B's and instead streamlining the creation of more housing options. A companion Ucluelet Zoning Amendment Bylaw No. 1311 was also given 1st reading on May 31st. This bylaw would recognize existing licensed B&B's in a new "B&B Overlay" to be added to the zoning bylaw. All properties that are currently operating a B&B – and those who have legitimately taken steps to create a lawful B&B prior to June 1st – would retain the Bed and Breakfast use as a permitted secondary use on their property (instead of an ADU). Bylaw No. 1311 would keep the existing B&B's legal – not "lawfully non-conforming" or "grandfathered", rather they would still be zoned for the B&B use and could continue operation with no change.
District staff are refining the map and table of properties that would be linked to the zoning bylaw to allow B&B's to include the following:
Existing B&B's with a current business licence

Houses under construction or renovation under a current building permit to include one or more conforming B&B units

Building permit or business licence applications received prior to June 1st and under review that would create one or more conforming B&B units (i.e., applications already in-stream)

Properties identified where the owner has not yet applied for a building permit or business licence but can demonstrate they were taking steps toward preparing an application prior to June 1st
Frequently Asked Questions
What if we miss someone?
We will miss someone. If Bylaw Nos. 1310 and 1311 are adopted, we expect that there will be some stragglers who were not aware and were not included in the initial B&B Overlay – we are expecting to bring those qualifying cases to Council for an amendment to update the overlay if necessary.
What if someone later wants to start a B&B?
B&B's are not being banned. In the future, starting a B&B would take an application to Council for either a Temporary Use Permit (could be for up to 3 years at a time) or a site-specific zoning amendment. Both of those applications require notification and an opportunity for neighbourhood input to Council.
What if I have a property that is zoned for Guesthouse (GH) or Vacation Rental (VR-1)?
Bylaw Nos. 1310 and 1311 would have no effect on the short-term vacation rental uses on properties zoned GH or VR-1.
---
Background: What is this all about?
Ucluelet has been experiencing a dramatic shift of value within the housing market. This is partly brought about by external forces (increased demand for rural properties brought by a global pandemic, a culture shift to working remotely, historically low interest rates, etc.), and is also affected by local forces (existing zoning regulations, destination tourism marketing, labour availability, etc.).
For years, within the Ucluelet zoning bylaw the Bed and Breakfast ("B&B") use has been a permitted secondary use. This accessory use was intended to be a "mortgage helper" and first arose in the zoning regulations as the local economy saw shifts in the forestry and fishing sectors, and the community began to turn to tourism for additional economic opportunities. Over time, there has been rising popularity and demand for short term rentals ("STR's"; this term is often used interchangeably with B&B in the discussion of short-term tourist accommodation within single-family residential properties).
In 2008 AirBnB was founded. Online bookings for independent STR accommodation began to grow in popularity.
The B&B accessory use within the residential zones in Ucluelet perhaps started as an innocuous side gig, but the rise of AirBnB and other online booking platforms led to that being discovered and promoted to the point where the B&B use is now effectively a loophole into the commercial vacation accommodation market.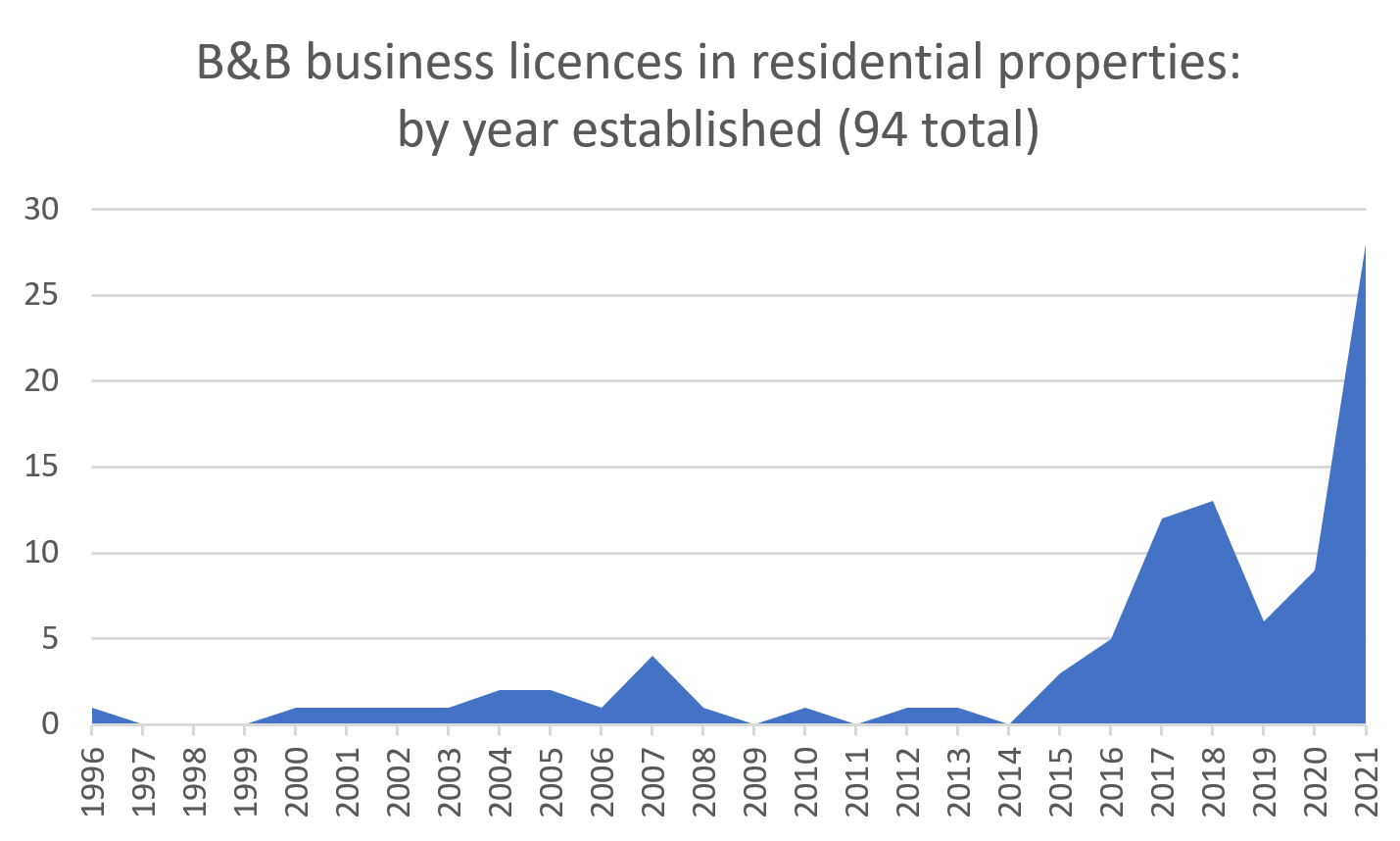 ---
What about supply? Recent development activities in Ucluelet?
There have been a number of recent and current housing development approvals:
Ocean West phase 5 (32-lot single-family subdivision: Development Permit (DP) and Preliminary Layout Approval (PLA) issued)

Lot 13 Marine Drive affordable housing (33-lot single-family subdivision: rezoning, DP and PLA issued)

Lot 16 Marine Drive housing development (112 units total, including 48-unit rental apartment. Rezoning approved.)

The Wave on Marine Drive development (6 townhouses: construction complete)

Development of 20 new homes under the Pocket Neighbourhood Residential regulations on St. Jacques Boulevard

Minato Bay proposed housing development (212 units; 78% affordable or attainable including 98 rental units. Zoning application in process.)

A handful of "one-off" site-specific single-family re-zonings to allow an Accessory Residential Dwelling Unit (ADU)
In addition, Council has supported the retention of existing housing and creation of temporary worker housing:
Raven Lodge rezoning to recognize existing non-conforming multi-family units and to enable building upgrades; and,

Numerous Temporary Use Permits (TUP) for seasonal worker housing, including a 2021 pilot project for a batch intake of TUP applications.
---
For more information please contact the Planning Department:
Call: 250-726-7744
Email: This email address is being protected from spambots. You need JavaScript enabled to view it.