Garbage, Recycling and Industrial Waste Services
For information on how to pay your Garbage and Recycling bill please call the Alberni Clayoquot Regional District (ACRD) at 250-720-2700.
Sort'nGo Organics
A new waste collection service is pulling up to west coast curbs. This program is called Sort'nGo Organics and will replace the current Garbage and Recycling Program here in Ucluelet. Residents of single-family homes in Ucluelet will begin diverting organic (food/yard) waste from the landfill.
Key Dates
Cart Delivery Dates: November 23-30, 2022
Service Launch (first day with new carts): December 5, 2022
Week 1 Collection Schedule (Ucluelet and hitac̓u)
Monday, December 5 - Green Organics Cart
Wednesday, December 7 - Blue Recycling Cart
Week 2 Collection Schedule
Monday, December 12 - Green Organics Cart
Thursday, December 15 - Black Recycling Cart
Using the Cart Locking Mechanism
The new organics and garbage carts come with certified locking mechanisms to further reduce the chance of wildlife accessing the contents.
Residents should:
Keep both clips locked to the lid 24/7 except on collection day when placing carts roadside between 5am-8am
Once roadside, unlock the clips and hook the two ends together to avoid cart damage when emptied by the collection


Securing and Storing Carts
Ideally, carts will be stored inside and away from entry doors and windows (i.e., pantry, garage). If carts must be stored outside, they will need to be properly secured.
Not properly securing/storing carts is the #1 reason animals are able to get access, damage carts and increase the risk of human-wildlife conflict.
Guidelines from WildSafeBC include:
All types of outdoor sheds are not strong enough to prevent bears from accessing their contents – unless they are outfitted with electrical fencing
If stored outdoors, secure carts with chains or cables locks to a secure base, such as a concrete block to prevent an adult bear from dragging it away
Store carts in a well-lit area, or area with security/motion sensor lights
Keep carts away from entryways and doors
Decrease odors and attractants by storing smelly food waste (i.e., fish and meat products) in the freezer before transferring to green carts on collection day
View More WildSafeBC Guides on Reducing Wildlife Conflicts ->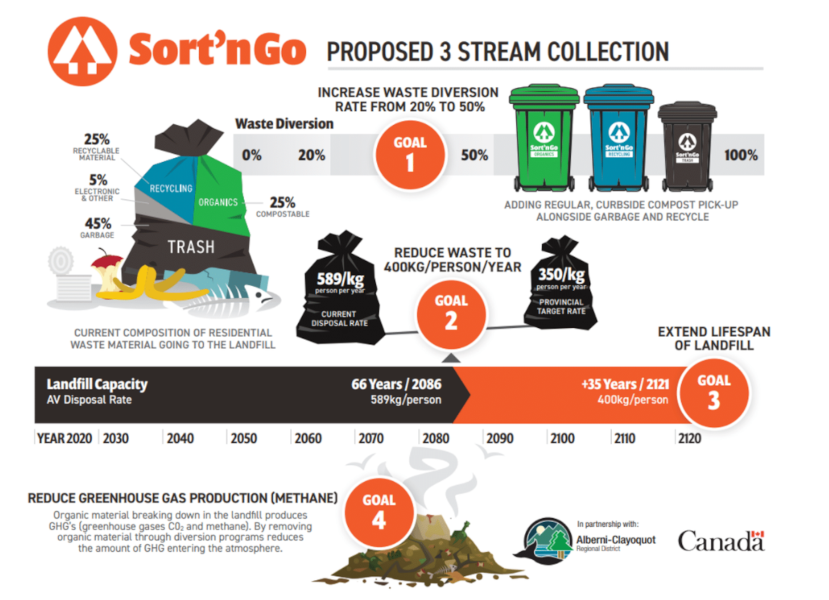 All eligible residents – any residential dwelling with four or fewer units – will receive a new organics cart that will get picked up weekly at the roadside. Residents will also receive a new uniform (blue) recycling cart and (black) garbage cart, which will be collected on alternating weeks.
For more information, visit Sort'nGo Organics - West Coast at Let's Connect ACRD >

Garbage & Recycling Schedules
Type your address into the Waste Wizard Calendar below to download your Garbage and Recycling Schedule.
Use the Sort It section to learn how to recycle or dispose of a particular waste item such as styrofoam, batteries, plastic bags or empty paint cans.
Residential garbage & recycling is collected by the Alberni Clayoquot Regional District through a private contractor and disposed of at the Alberni Clayoquot Regional District landfill. Strata properties, trailer parks, apartment buildings with three or more units, and commercial properties with a residence are not included in the curbside collection program.
Curbside recycling pickups are Wednesdays, every two weeks. Recycling collection weeks alternate between Tofino and Ucluelet.

RecycleBC
lets you know what can be collected at your property.
Ucluelet residents are encouraged to be 'Bear Aware' and aim to reduce the amount of bear attractants in the community. For example, residents are not permitted to put garbage outside until the morning of collection day.
Ucluelet Recycling Facilities
Ozzard Environmental - Ucluelet Recycling Depot
333 Forbes Road
Phone: 250-266-6166
Hours: Saturday, 9am to 3pm
Bottle Depot
325 Forbes Road
Phone: 250-726-3748 Electronic devices can also be dropped off at the Bottle Depot.