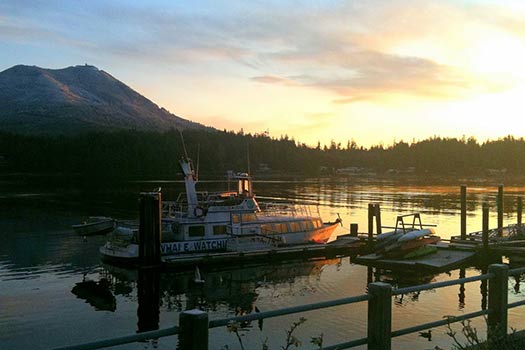 The environment of tranquil Ucluelet provides a stimulating and dramatic backdrop for working, living, and recreating. The town of Ucluelet offers beaches, multi-use sports fields, community parks, waterfront promenades, restaurants, unique shops and galleries, a mini aquarium and a range of accommodation choices. The motto of Ucluelet is "Living on the Edge" due in part to its location on a peninsula surrounded by water. This marine influence permeates Ucluelet from the climate, to events such as the Pacific Rim Whale Festival, to the design of buildings, which are uniquely West Coast.
Ucluelet is located 288 kilometres (km) northwest of the British Columbia provincial capital, Victoria, on the magnificent outer West Coast of Vancouver Island.
The closest city is Port Alberni, approximately 110 km to the east. The District of Tofino is 40 km northwest of Ucluelet.
In between Tofino and Ucluelet is the Long Beach Unit of the Pacific Rim National Park Reserve. Ucluelet provides easy water access to Barkley Sound; a spectacular marine area that features the Broken Group Islands Unit of the Pacific Rim National Park Reserve.
Ucluelet is growing as a major tourist destination and features stunning scenery, interesting events and activities, and a rich cultural history. The word Ucluelet (pronounced you-KLEW-let) is a local First Nations word meaning "safe harbour". Archaeological evidence indicates the presence of First Nations for at least 4300 years, and the area was settled in 1870 by fur sealers. Along with learning about Ucluelet's history, a key highlight for tourists is the easily accessible Wild Pacific Trail, which offers spectacular vistas of the Pacific Ocean and wildlife viewing opportunities. Recreational activities include surfing, fishing, whale watching, kayaking, camping, hiking, storm watching, biking, swimming, and beachcombing.