2022 Summer Program Guide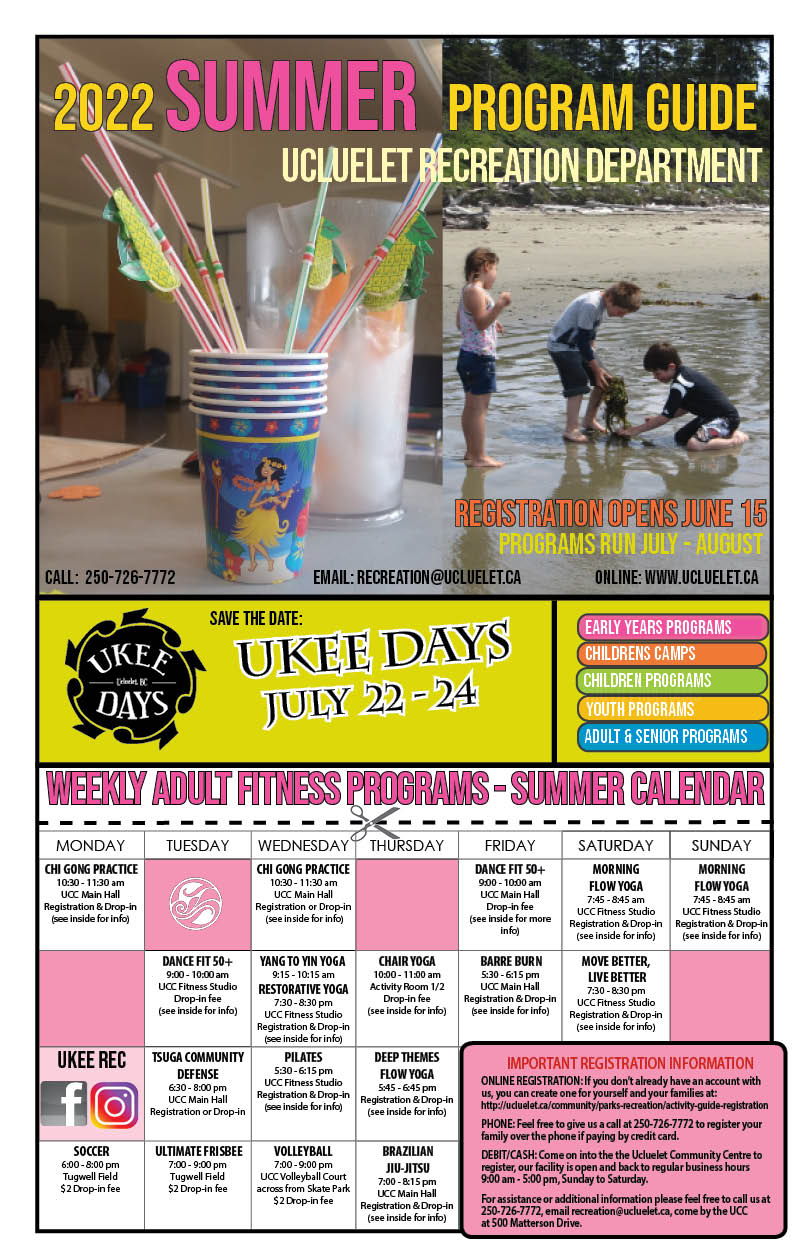 Registration opens on Wednesday, June 15, 2022.
Our community's wellbeing has always been the number one priority for the Ucluelet Recreation Department and that focus remains the same as we navigate these new times.
As social distancing becomes part of our daily lives, our recreation team is curating new ideas to continue serving our West Coast communities with innovative programming.
View and download the 2022 Summer Program Guide
Register Online for Ucluelet Recreation Programs
Don't forget to follow our brand new Instagram page @UkeeRec! We invite you to share your ideas and photos with us on our social media platforms and tell us how you're staying active and well!
Ukee Recreation Recreated ~ Previous Challenges
Our weekly challenges archive has moved to our Publication & Forms page.
Activities and Fitness for Seniors
Click on the buttons below to go straight to your online class.
Parks & Recreation Newsletters
Click on the button below to view our new series of newsletters. We'll have new content weekly. Perfect Mind account holders will receive their newsletter by email each week.
Visit the Parks & Recreation Newsletter Page
We are Looking for Instructors
If you are interested in sharing your skills with this community, we are always looking for fresh ideas and new facilitators.
Contact Barb Gudbranson at 250.726.7772 ext. 223 or This email address is being protected from spambots. You need JavaScript enabled to view it.
Subsidy Program
Ucluelet Parks & Recreation Subsidy Program is designed to provide support through bursaries for the reduction of program fees. This program is available to residents of Ucluelet.
Completed forms may be dropped off at the Ucluelet Community Centre at 500 Matterson Drive or mailed to:
Ucluelet Parks & Recreation
PO Box 999, Ucluelet, BC, V0R 3A0
For more information please contact Abby Fortune, Director of Parks and Recreation: Call 250-726-7744
or email This email address is being protected from spambots. You need JavaScript enabled to view it.