Ucluelet's Tsunami Evacuation Plan and Community Safety Zones - '20 Meters High in 20 Minutes'
Step 1 – DROP, COVER, and HOLD ON during an earthquake
To reduce injury and death during an earthquake, Drop, Cover and Hold On until the shaking stops.
DROP to the ground (before the earthquake drops you!)
Take COVER by getting under a sturdy desk or table
HOLD ON to it until the shaking stops

* If there isn't a table or desk near you, drop to the ground in an inside corner of the building and cover your head and neck with your hands and arms. Do not try to run to another room to get under a table. See ShakeOut recommended earthquake safety actions.
DO NOT wait for an official warning - there may be no time for officials to issue warnings
DO NOT pack (have your grab-and-go bag already packed by the exit)
DO NOT go to the beach to watch - tsunamis move over 970 kph (600 mph) in open ocean
Step 2 – Immediately Evacuate to the Nearest Community Safe Zone (Higher Ground)
If a magnitude 9.0 earthquake occurs along the Cascadia fault, the ground will shake for approximately 5 minutes. After the shaking stops, a series of tsunami waves are predicted to reach Ucluelet within 20 minutes. This is why Ucluelet's Emergency Coordinating Committee has created the slogan '20 meters in 20 minute'.
The standard safe evacuation level in Ucluelet is 20 m or 66 ft. Run-up or Splash effects can occur around beaches, bays and valleys.
If you feel the ground shaking immediately move to higher ground if you are in a low lying area by walking to the nearest Community Safe Zone with your GRAB-and-GO bag. The following locations (see corresponding map below) are all 20 meters (approximately 66 ft.) or more above sea level:

Secondary School and Associated Fields – elevation is approximately 27 m/90 ft. Assemble at the race track
Reef Point High Site Area – elevation is approximately 27 m/90 ft. Assemble at Reef Point Road and Coral Way
Coast Guard Road High Site Area – elevation is approximately 24 m/80 ft. Assemble at the Wild Pacific Trail parking lot along Coast Guard Drive (parking lot in the forest)
Tugwell Fields – elevation is approximately 25 m/85 ft. Assemble at the Tugwell ball fields along Pacific Crescent
Hyphocus Island High Site Area – elevation is approximately 52 m/177 ft. Assemble at the top of the hill at Hyphocus Island on Helen Road
Millstream High Site Area – elevation is approximately 35 m/110 ft. Assemble across from Lee Street at Ucluelet's Industrial area

After the danger has passed and Authorities say you can leave higher ground, go to the Secondary School for information and assistance. While travelling be aware of hazards such as downed power lines, debris, damaged roadways, unstable buildings, etc.
DO wait for an 'all clear' from local officials before returning home or to low laying areas. A tsunami may have more than one wave, the first wave may not be the largest and tsunami wave activity may last 24 hours or longer.
If you are 20 meters above sea level, stay where you are.
Note
WALKING TIME - The average speed of a good walk is 3 mph or 5 km/hr, or 1 km in 12 minutes, so walking 500 m uphill might take 15 - 20 minutes carrying things.
20 m ZONE - Keep in mind Run-up or "Splash" effects around beaches, bays and valleys should be kept in mind.
Remember - if you feel the ground shaking for approximately 5 minutes, you will have approximately 20 minutes to get to high ground before the first tsunami wave hits the coast! See Ucluelet's Earthquake-tsunami brochure for more information.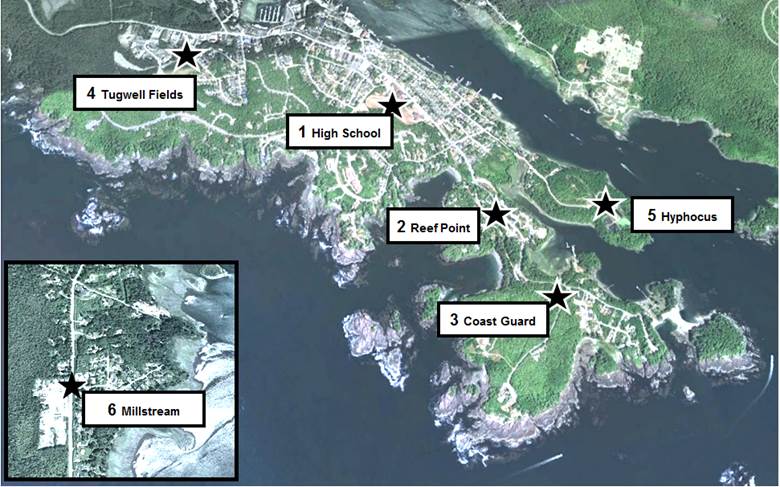 Central Region
Peninsula Road from Marine Drive to Thornton Motel is at a safe height. The schools and Fire Hall / Emergency Operation Centre are over 27m / 90ft, a prime evacuation area with much open land at the school facilities. The 20 m line roughly corresponds to Helen Road between Matheson Road and Marine Drive. Marine Drive along the outer coast is mostly below 20 m and very exposed to tsunami run-up. However, almost all the houses along Marine Drive are within a kilometer of the school grounds, or about 15 - 20 m of mostly level walking on the roads.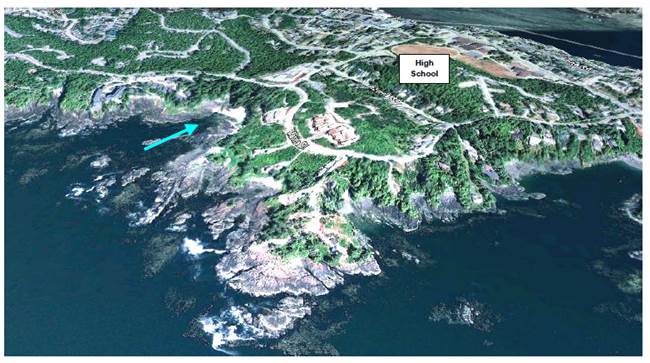 South Region
End of Peninsula – All the land beyond Coast Guard Road is low and exposed. The turnaround at the end of Peninsula Road measured around 10 m / 33 ft. The intersection of Coast Guard Road is 15m/50 ft., still low, but the road quickly climbs to a safer level and may also be protected from the tsunami. The Coast Guard Station parking lot is around 21 m/70 ft., but would be exposed to a tsunami. The parking lot in the forest for hikers seems excellent at 24 m / 80 ft. Most houses on the peninsula end are within 600 m of the Coast Guard Road high ground, or about 20 minute walk uphill.
Reef Point – The turnaround at Reef Point Road (i.e., Reef Point and Coral Way intersection) is 27 m / 90 ft., and is back from the shoreline cliffs, so this is a decent evacuation site for this area. Boardwalk Boulevard is about 20 m, but is exposed to run-up in the bay. Most houses in Reef Point are within 400 m of the Reef Point Road intersection at 21 m/70 ft., or about 10-15 min walk uphill.
Hyphocus Island – The highest area is around 52 m / 177 ft., which is an ideal evacuation area. Please note there is a low lying and exposed section of Helen Road at the causeway.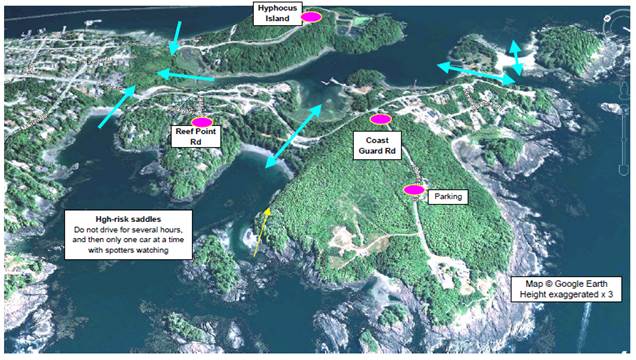 North-West Region
Tugwell Fields – The ball fields are over 25 m/ 85 ft.; an ideal evacuation area.
North/West end – The area around Willowbrae Road is low and very exposed to run-up. The closest evacuation to safer ground is to walk up to Ucluelet's industrial area, less than a 500 m walk. The upper half of the Lee Street residential area is fairly high, but because of the run-up risk, the area across the highway (Ucluelet's industrial area) would be a potential evacuation area at approx. 35 m / 110 ft. Most houses are within 400 m of the intersection.
For more information about Emergency Services, Ucluelet's Tsunami Evacuation Plan, Community Safety Zones and Personal Preparedness, please contact the District Office at 250-726-7744 or email This email address is being protected from spambots. You need JavaScript enabled to view it..