On September 21, 2021, Council gave District of Ucluelet Zoning Amendment Bylaw No. 1284, 2021, third reading.
Background Information
A housing development is proposed for the properties known as Lot 16 Marine Drive (District Plan VIP76214 Except part in plans VIP80735, VIP83067 and VIP86140).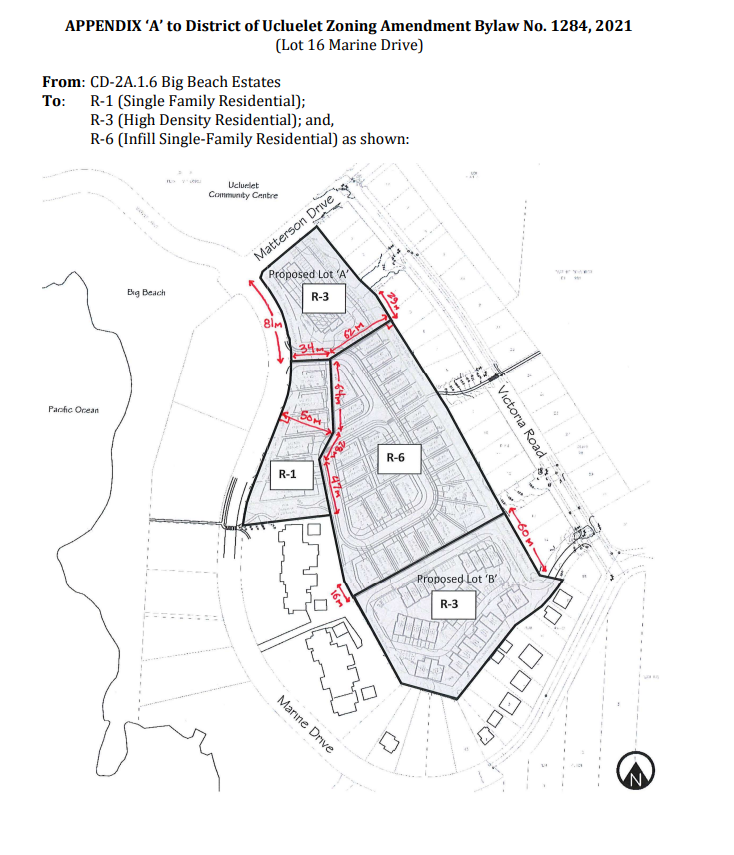 The proposal is to rezone the property from CD-2A.1.6 Big Beach Estates Zoning to:
R-1 - Single Family Residential
R-3 - High Density Residential
R-6 - Infill Single Family Residential (Proposed New Zoning Designation)
This rezoning would enable the development of up to:
a 48-unit rental apartment building on the corner of Matterson Drive and Marine Drive
6 Single Family Residential lots on Marine Drive
30 smaller Single Family Residential lots in a new zone
28 townhouse Multi-Family units
For details review the Council Reports below.
Related Documents
Read the Staff Reports:
Watch the August 17th (starting @ 34:37), July 13th (starting @ 1:13:00), June 15th (starting @ 2:00:51), and March 23rd (starting @ 25:00), Council meetings and the August 10, 2021, Committee of the Whole, at https://www.youtube.com/channel/UCgMmvgyLw-y_zmfdLaGEY6A
Review the Meeting Minutes:
Community Feedback
General Enquiries
Telephone: 250 726-7744
Email This email address is being protected from spambots. You need JavaScript enabled to view it.