---
Updates & Media Releases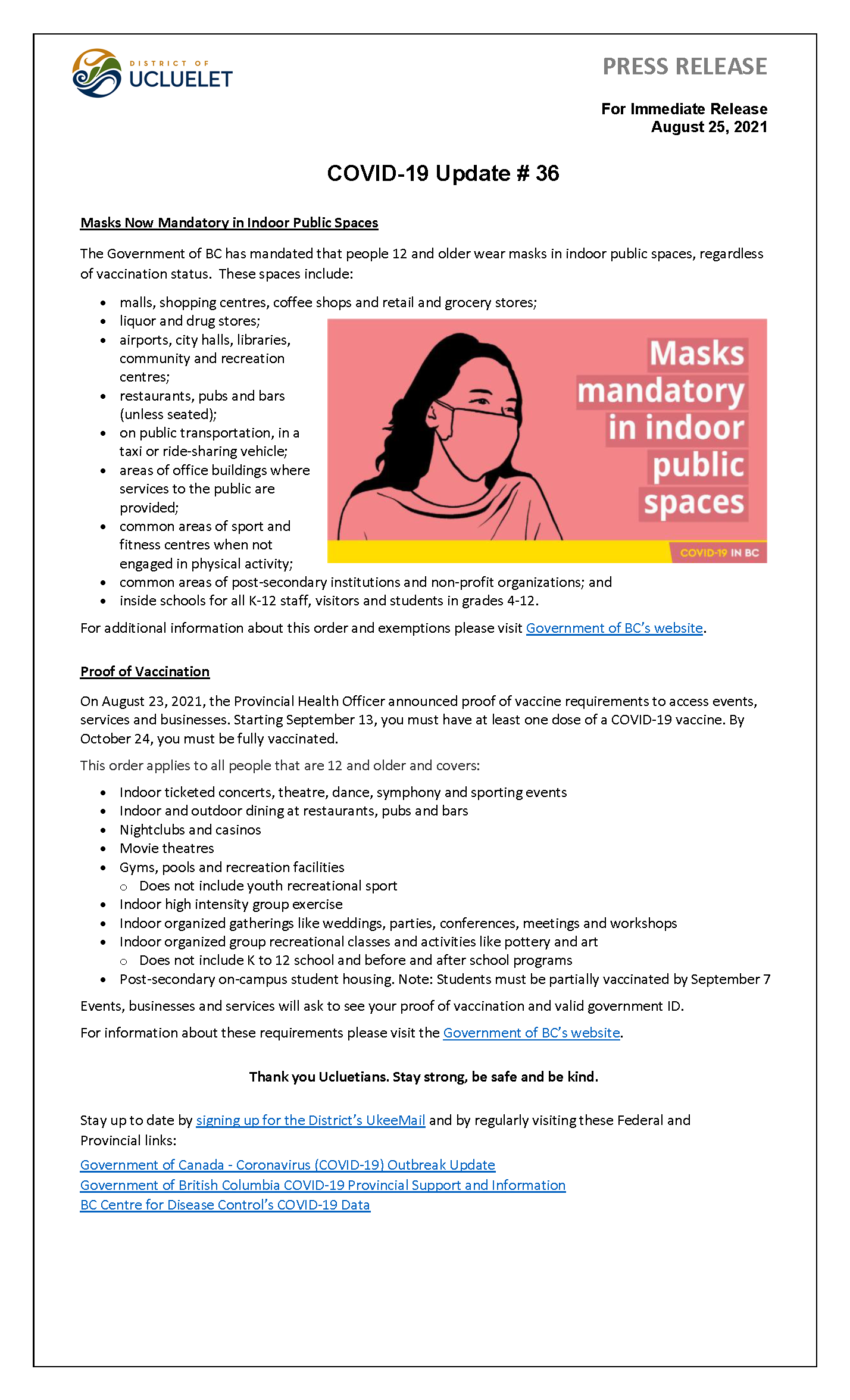 Click here for a PDF of the press release with links.
---

---
What you can do
Stay informed and follow the advice of your personal health care provider and governing bodies such as Public Health Agency of Canada regarding COVID-19.
Exercise protective measures like wearing a mask in indoor public spaces until you are fully vaccinated, regular, proper hand washing and staying home if you are sick. This is important to personal health and helps safeguard the health of others, particularly the most vulnerable in our communities. For more information on practicing good hygiene visit the BC Centre for Disease Control (COVID-19)
Consider others, everyone is moving forward at their own pace.
Residents are encouraged to have two weeks of supplies ready in the event that they have to self-isolate
---
Resources
Vaccine Registration
COVID-19 Vaccine Registration - Island Health
Helpful public health links
BC Centre for Disease Control – COVID-19
BC Provincial Support and Information – COVID-19
Public Health Agency of Canada - COVID-19 Outbreak Updates
Public Health Agency of Canada - COVID-19 Awareness Resources
Accessing Care on the West Coast
West Coast Services and Resources
Island Health COVID-19 Testing, Symptoms and Isolation
Helpful mental and physical health links
Canadian Mental Health Association
Helpful financial assistance links
A Summary of BC Provincial COVID-19 Supports
BC Provincial Financial Supports in Response to COVID-19
BC Province COVID-19 & Tenancies
Federal COVID-19 Economic Response Plan
Helpful business support links

BC Provincial Support and Information – COVID-19
Federal - COVID-19 Economic Response Plan
Ucluelet Chamber of Commerce on Facebook
Vancouver Island Coastal Tourism Resiliency Program
Previous updates & media releases
COVID-19 Update #36 August 25, 2021
COVID-19 Update #35 June 30, 2021
COVID-19 Update #34 June 14, 2021
COVID-19 Update #33 May 27, 2021
Joint News Release April 23, 2021
COVID-19 Update #32 March 26, 2021
COVID-19 Update #31 March 12, 2021
COVID-19 Update #30 February 5, 2021
COVID-19 Update #29 December 17, 2020
COVID-19 Update #28 November 27, 2020
Joint West Coast Release November 27, 2020 West Coast Communities Are Keeping Health and Safety Top of Mind with Adherence to Latest Provincial Recommendations
COVID-19 Update #27 November 20, 2020
COVID-19 Update #26 November 13, 2020
COVID-19 Update #25 October 29, 2020
COVID-19 Update #24 October 16, 2020
Ucluelet COVID-19 Response Plan
Joint West Coast Release September 3, 2020 Show Your Love For the West Coast
COVID-19 Update#23 August 20, 2020
COVID-19 Update#22 August 6, 2020
COVID-19 Update#21 July 27, 2020
COVID-19 Update#20 July 23, 2020
COVID-19 Update#19 June 25, 2020
COVID-19 Update#18 June 18, 2020
COVID-19 Update#17 June 11, 2020
COVID-19 Update #16 June 4, 2020
COVID-19 Update #15 May 27, 2020
COVID-19 Update #14 May 21, 2020
COVID-19 Update # 13 May 14, 2020
Joint West Coast Release May 9, 2020 Thank you to Businesses for Staying Closed and Visitors for Staying Away for May Long Weekend
COVID-19 Update # 12 May 7, 2020
COVID-19 Update # 11 April 27, 2020
COVID-19 Update # 10 April 24, 2020
COVID-19 Update #9 April 17, 2020
COVID-19 Open Burning Restrictions April 15, 2020
Joint West Coast Release April 9, 2020 Urgent Appeal to Visitors for Easter Long Weekend
COVID-19 Update #8 April 9, 2020
COVID-19 Update #7 April 6, 2020
COVID-19 Update #6 April 3, 2020
Joint Statement March 19, 2020 from DoU, Ucluelet Chamber of Commerce and Tourism Ucluelet
COVID-19 Update #5 March 27, 2020
COVID-19 Update #4 March 23, 2020
COVID-19 Update #3 March 16, 2020
COVID-19 Update #2 March 13, 2020 Information for District Operations
COVID-19 Update #1 March 9. 2020 Information for Community Members
General enquiries
For more information contact the District of Ucluelet at 250-726-7744 or This email address is being protected from spambots. You need JavaScript enabled to view it..