BC RESTART PLAN
On May 6, 2020 the Provincial Government announced the BC Restart Plan. This plan is comprised of four phases which provide next steps to move BC through the COVID-19 pandemic. Even though we are now in Phase 3 of the BC Restart Plan, new restrictions have been announced and non-essential travel is not recommended.
UCLUELET COVID-19 RECOVERY PLAN
The District of Ucluelet continues to monitor information from our provincial and federal agencies pertaining to COVID-19. A timeline for businesses opening in Ucluelet depends on direction provided by Provincial and local health authorities. On May 12, 2020, Ucluelet Council endorsed the establishment of a Ucluelet COVID-19 Recovery Plan to provide our community with a path forward for reopening and to summarize economic, social, and municipal actions that are planned or underway. The latest version of the Plan can be found here: Ucluelet COVID-19 Response Plan.
Have your say! Please review the Plan and send your comments or ideas to This email address is being protected from spambots. You need JavaScript enabled to view it.
The District is committed to taking important steps in reducing the spread of COVID-19. As part of the collective effort to reduce the spread of COVID-19, municipal staff who can work from home have been directed to do so. This is part of an overall public health strategy to help safeguard the health of others, particularly the most vulnerable in our communities, by reducing the number of our employees in the workplace where possible while still maintaining operations.Information regarding municipal programs and services, as well as provincial health messages will be shared via facebook, Ukeemail and our website.
You will find the District's COVID-9 Site Safety Plan here: https://ucluelet.ca/community/planning-forms-pubs.
District of Ucluelet Bylaw Enforcement Priorities During COVID-19
Council Meetings During COVID-19
Sign up for Ukeemail to receive District of Ucluelet updates in your inbox.
---
Messages from Mayor Noël
Together, we are facing a serious public health crisis. We need to listen and act on the direction of public health authorities about how to lessen the spread and flatten the curve of COVID-19. All of us are now familiar with the advisory messages being shared daily. These must be taken very seriously. Simply put, by doing your part, you will help save lives. Read more…

---
Updates & Media Releases
Latest Update March 26, 2021
COVID-19 Vaccination Update
On March 24th the first vaccination clinic was held at the Ucluelet Community Centre. Many seniors had the opportunity to receive their first dose of the COVID-19 vaccine. Island Health has not announced dat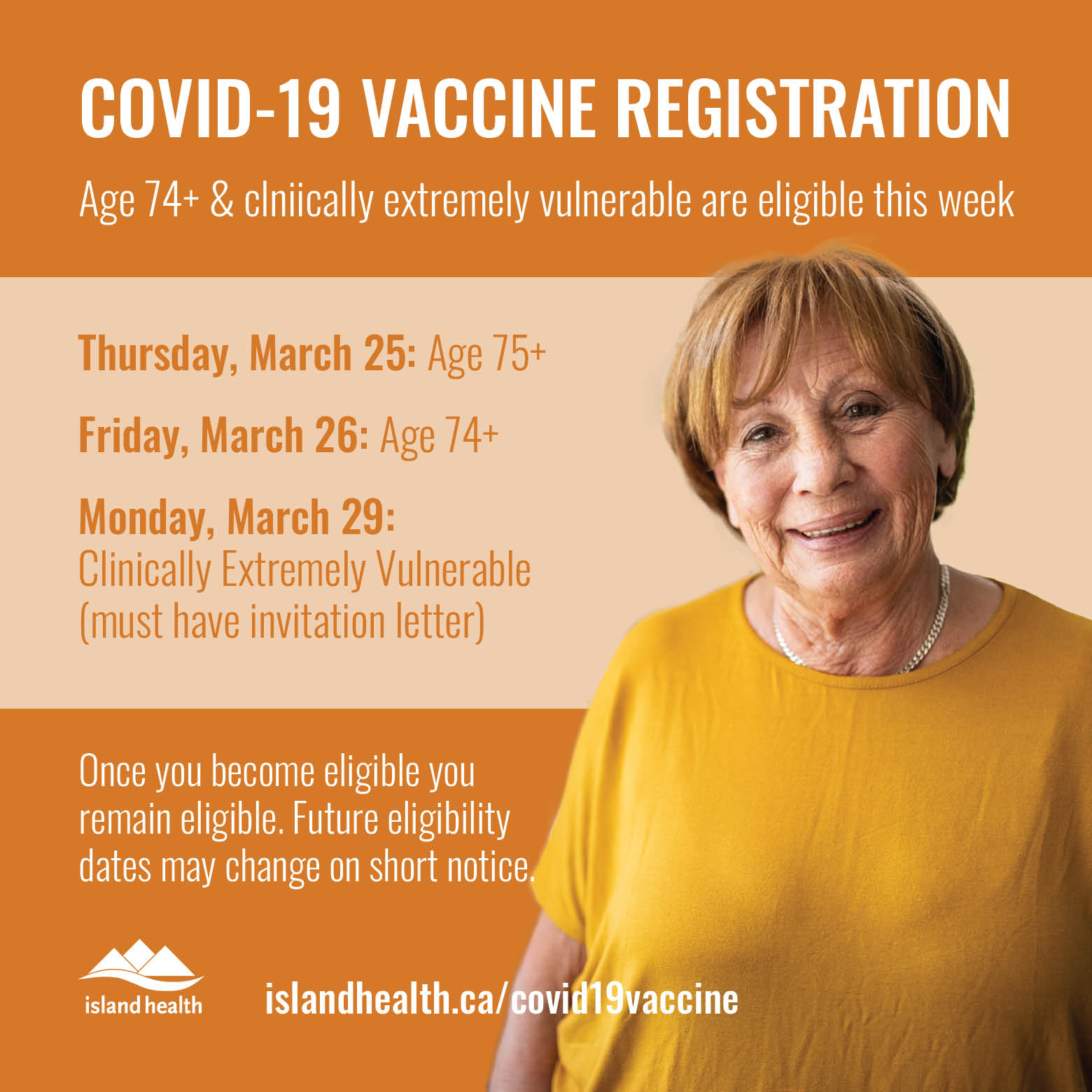 es for the whole community clinic in Ucluelet, but the District expects to receive information soon. For more information about Island Health's whole community approach to vaccination click here.
Seniors that are 74+ can now schedule a vaccination appointment at clinics around the Island. For more information visit Island Health's website.
COVID-19 Restrictions Update - Gatherings and Events Order
On March 23rd Dr. Henry further eased restrictions on outdoor social gatherings. Under the amended Gathering and Events order, religious worship services and funerals may be held outdoors. Up to 50 people may attend these gatherings, plus 2 extra people to make sure the rules are followed. COVID-19 Plans and Protocols must be in place and there are special rules about masks. For more information visit the province's website.
These changes are in addition to the March 11th announcement that groups of up to ten people may gather outdoors. Please note, that these ten people must always be the same ten people. Also, indoor gatherings of any size are still prohibited, and non-essential travel is not recommended.
---
What you can do
Stay informed and follow the advice of your personal health care provider and governing bodies such as Public Health Agency of Canada regarding COVID-19.
Exercise protective measures like wearing a mask in indoor public spaces, regular, proper hand washing and staying home if you can. This is important to personal health and helps safeguard the health of others, particularly the most vulnerable in our communities. For more information on practicing good hygiene visit the BC Centre for Disease Control (COVID-19)
Practice social distancing. This means staying at least two metres apart from one another and avoiding crowded places and non-essential gatherings. Greet one another with a wave instead of a handshake or hug.
Residents are encouraged to have two weeks of supplies ready in the event that they have to self-isolate
---
Resources
Vaccine Registration
COVID-19 Vaccine Registration - Island Health
Safety plans
Ucluelet Community Centre COVID-19 Safety Plan
Helpful public health links
BC Centre for Disease Control – COVID-19
BC Provincial Support and Information – COVID-19
Public Health Agency of Canada - COVID-19 Outbreak Updates
Public Health Agency of Canada - COVID-19 Awareness Resources
Accessing Care on the West Coast
West Coast Services and Resources
Island Health COVID-19 Testing, Symptoms and Isolation
Helpful mental and physical health links
Canadian Mental Health Association
Helpful financial assistance links
A Summary of BC Provincial COVID-19 Supports
BC Provincial Financial Supports in Response to COVID-19
BC Province COVID-19 & Tenancies
Federal COVID-19 Economic Response Plan
Helpful business support links

BC Provincial Support and Information – COVID-19
Federal - COVID-19 Economic Response Plan
Ucluelet Chamber of Commerce on Facebook
Vancouver Island Coastal Tourism Resiliency Program
Previous updates & media releases
COVID-19 Update #31 March 12, 2021
COVID-19 Update #30 February 5, 2021
COVID-19 Update #29 December 17, 2020
COVID-19 Update #28 November 27, 2020
Joint West Coast Release November 27, 2020 West Coast Communities Are Keeping Health and Safety Top of Mind with Adherence to Latest Provincial Recommendations
COVID-19 Update #27 November 20, 2020
COVID-19 Update #26 November 13, 2020
COVID-19 Update #25 October 29, 2020
COVID-19 Update #24 October 16, 2020
Joint West Coast Release September 3, 2020 Show Your Love For the West Coast
COVID-19 Update#23 August 20, 2020
COVID-19 Update#22 August 6, 2020
COVID-19 Update#21 July 27, 2020
COVID-19 Update#20 July 23, 2020
COVID-19 Update#19 June 25, 2020
COVID-19 Update#18 June 18, 2020
COVID-19 Update#17 June 11, 2020
COVID-19 Update #16 June 4, 2020
COVID-19 Update #15 May 27, 2020
COVID-19 Update #14 May 21, 2020
COVID-19 Update # 13 May 14, 2020
Joint West Coast Release May 9, 2020 Thank you to Businesses for Staying Closed and Visitors for Staying Away for May Long Weekend
COVID-19 Update # 12 May 7, 2020
COVID-19 Update # 11 April 27, 2020
COVID-19 Update # 10 April 24, 2020
COVID-19 Update #9 April 17, 2020
COVID-19 Open Burning Restrictions April 15, 2020
Joint West Coast Release April 9, 2020 Urgent Appeal to Visitors for Easter Long Weekend
COVID-19 Update #8 April 9, 2020
COVID-19 Update #7 April 6, 2020
COVID-19 Update #6 April 3, 2020
Joint Statement March 19, 2020 from DoU, Ucluelet Chamber of Commerce and Tourism Ucluelet
COVID-19 Update #5 March 27, 2020
COVID-19 Update #4 March 23, 2020
COVID-19 Update #3 March 16, 2020
COVID-19 Update #2 March 13, 2020 Information for District Operations
COVID-19 Update #1 March 9. 2020 Information for Community Members
General enquiries
For more information contact the District of Ucluelet at 250-726-7744 or This email address is being protected from spambots. You need JavaScript enabled to view it..