Cut Broom in Bloom - It's that time again!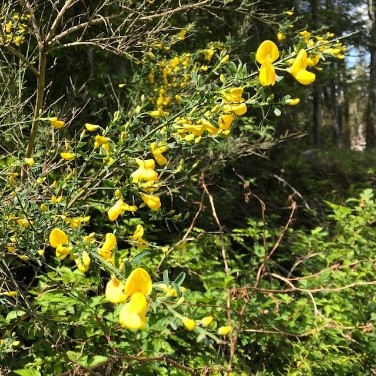 Cut at ground level, or below if possible, while broom is in bloom – in late April or May. The remaining drought stressed roots will die in the summer's heat.
You can drop off your cut broom at the Ucluelet Community Centre, 500 Matterson Drive, where we will provide a bin for the rest of the month of May. If you would like your broom picked-up curbside please have it ready for pick-up for the Spring Clean Up by 8:00 am Saturday, May 25th.
Why Cut in the Spring?
The Scotch broom plant is most vulnerable when in bloom, because the energy of the plant is above ground in the flowers. If cut at ground level, while in bloom, the plant usually dies. If cut during the wet season, it will most likely re-spout. If cut in the spring, you do not need to remove the roots; the roots will die in summer's dry heat.
Why Cut at Ground Level?
You need to find the single stem of the plant. No matter how many branches and sprigs there are, there is always only one "trunk" that goes into the ground. THAT is what you want to cut. Sometimes you have to move grass and give a tug on the stem to find the base of the plant. You want to cut all the way at ground level for two reasons. 1.There are often small branches that go off into the grass. 2. There are buds near the base that can resprout. You want to cut below those buds.
Do Not Pull Broom
Broom needs sun, and broom seeds sprout in the sun. So, broom thrives in disturbed soil. If a broom plant bloomed nearby the previous year, there are thousands of seeds already in the soil ready to sprout. Keep the ground cover, grass and trees. Just cut, pat down the soil and cover with the ground cover.