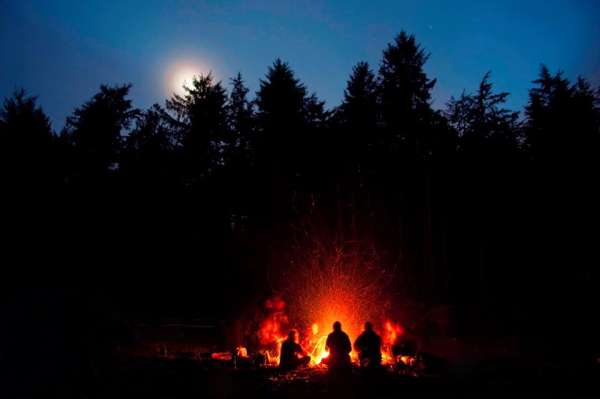 Photography by Landon Sveinson Photography
Just to be sure you don't slap yourself on the forehead when you unpack your bag upon arrival or miss out on some of the best things Ucluelet has to offer. We've made a fun 10 Do's and Don'ts when visiting Ucluelet. Are you ready?
1. Don't forget your camera
From dusk to dawn, there is so much beauty to capture that if you forget your camera or don't bring one, you'll just have to come back. As a note, we frequently run photo contests to give our fans a chance to win amazing prizes. So prepare your database of photos for this occasion.
2. Do visit the Pacific Rim Visitor Centre at the junction before heading into town
Have a question? They have the answer! Located at the T-junction just before you head to Ucluelet or Tofino, the Visitor Centre is stocked with maps, brochures and friendly staff to assist with all that the West Coast has to offer.
3. Don't feed or approach the wild life, remember they're WILD!
Feeding or approaching the wild life not only puts you at risk but also puts the wild life at risk of being too accustomed to humans. So if you happen to see a bear on the side of the highway nibbling on some berries, don't be afraid to blow your horn and send them back into the bush for their own safety.
4. Do bring warm clothes, even in the summer
We do have beautiful weather all year long, but even in the midst of the summer, we do get a cool breeze by the ocean...especially at night.
5. Don't spend too much time inside



Rain or shine get out there and explore! It's amazing how the landscapes morphs depending on the weather.
During the summer the market runs on Friday nights from 5:00PM to 9:00PM. Everything from coffee, teas, preserves, to handmade soaps, jewellery, and waterproof beach blankets, not to mention gourmet doggie treats, free range meat, and flowers are a few of the products you can find.
7. Don't walk on rocks too close to the ocean
It's very tempting to go on the very edge of the rocks, see the waves explode on the rocky shore and get misted with salt water spray. Unfortunately, most people are not aware how dangerous it can be with slippery surfaces and rogue waves which do occur and are unpredictable.
8. Try surfing...at least once
Whatever age you are, go surfing! It is a must, especially if you've never tried it before. If you come during the summer you can count on relatively small waves, perfect for people to surf for the first time. It's the most amazing feeling bobbing in the water on a board, whether you stand up or just lay on it!
9. Don't bring an umbrella
Umbrellas are fine in the city but in Ucluelet, the wind will take it away. Go for a good old fashion pair of rubber boots and rainjacket. If you are here during the storm season, we highly suggest you also bring with you rain pants. (If you forget them or don't have any, shops in town can help you out)
10. Do take the time to relax and have camp fire by the ocean
Nothing better than to relax at night by the ocean with a camp fire. Ask where the designated areas are for camp fires at the visitor centre before you head into town.
Conclusion
Be prepared for the unexpected and to be amazed by the vast beauty of the area! Make sure to print or bookmark our running list of things to do in ucluelet to get the most out of your vacation.
And if you've already visited us, what are your Do's and Don'ts for a first time visitor?