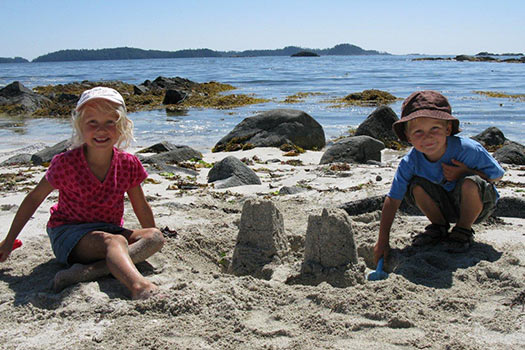 The Ucluelet area offers extraordinary opportunities for outdoor adventure and recreational activities. Located beside Long Beach in BC's Pacific Rim National Park Reserve, people come to Ucluelet for surfing, hiking, kayaking, fishing, diving, camping, whale and bear watching, beachcombing and storm watching.
The Wild Pacific Trail is becoming the focus of many Ucluelet vacations, with its unique shoreline trails and ocean vistas. The Pacific Rim National Park Reserve offers long sandy beaches for picnicking, hiking, surfing, and other water activities. Visit the Kwisitis Visitor Centre for educational programs and activities. The Broken Group Islands, a unit of the Pacific Rim National Park Reserve, is accessible from Ucluelet and offers world class kayaking and diving opportunities. The town of Ucluelet itself offers spas, shops and galleries, as well as a waterfront promenade along the inner side of the Ucluth Peninsula.
Browse through our activity listings and start planning your custom made west coast adventure.