The District of Ucluelet is currently developing a Single-Use Plastic Regulation Bylaw to reduce waste from single-use items (starting with bags and straws) and to promote sustainable consumer habits that are consistent with the values of our community.
The new Bylaw is being developed in partnership with the District of Tofino and
Surfrider Pacific Rim
, and intends to reduce single-use plastic waste in our communities, landfill, and the marine environment.
Bylaw Timeline

View the Bylaw (Draft, First Reading)
We want to Hear From You:
What do you think of the Bylaw, Regulatory Approach, Exemptions etc.?
Please send your written feedback to Mayor & Council by May 6, 2019 to the attention of:
Marlene Lagoa, Manager of Corporate Services
District of Ucluelet
P.O. Box 999, 200 Main Street Ucluelet, BC V0R 3A0
Email:
This email address is being protected from spambots. You need JavaScript enabled to view it.
Key Elements of the West Coast approach:
• Using authority granted under section 8(6) of the Community Charter – regulate in relation to business
• No single plastic bags or plastic straws may be provided or sold by businesses
• Avoids 'Biodegradable' or 'Compostable' plastic bags and plastic straws - these materials contaminate existing recycling streams and do not adequately decompose in a landfill or the environment
• Avoids rebound to excessive paper and reusable bags by adding a minimum price of no-less than 25 cents for paper, and $2.00 for reusable bags
• Provides exemptions to restrictions and fees on plastic bags as follows:
o to package loose bulk items;
o contain or wrap fresh or frozen meat,
o poultry or fish;
o wrap flowers;
o protect baked goods and non-packaged foods;
o contain prescription drugs;
o contain large items that cannot easily fit into a reusable bag; and
o package of multiple plastic bags that are sold for personal household use.
• Provides exemptions to restrictions and fees on plastic straws as follows:
o package of multiple plastic straws that are sold for personal household use.
• Permits plastic bags to be distributed that have already been used by a customer and that have been returned to the business for the purpose of being reused by other customers
• Specifically prohibits businesses from discouraging customers from bringing and using their own drinking straw to accommodate musculoskeletal and oral health care needs
• Educates the public using campaigns, partnerships with existing organizations and advocacy
Resources for Businesses:
Tips for Business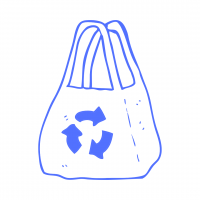 Key Messages and Social Media Posts for Businesses
For more information, please contact:
Marlene Lagoa
Manager of Corporate Services
250-726-7744 ext. 228
This email address is being protected from spambots. You need JavaScript enabled to view it.