Official Community Plan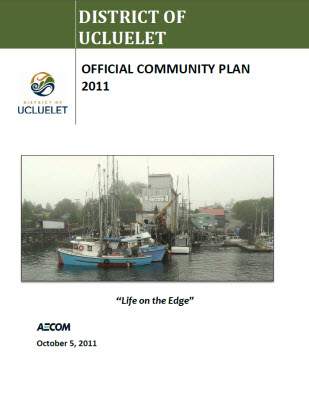 The purpose of the Official Community Plan (OCP) is to provide a long term vision for the District of Ucluelet. It sets out broad objectives and policies that will guide planning and land use decisions within the District, while respecting the community's existing character. The OCP charts a growth management course that supports Ucluelet's quality of life, enhances economic prosperity and advances environmental sustainability.
The Province of British Columbia's Local Government Act provides the authority and direction for the preparation of the Official Community Plan. Once adopted as a bylaw, an Official Community Plan has a legal status that requires that all subsequent bylaws enacted and works undertaken be consistent with the plan. The 2011 Official Community Plan replaces the previous Official Community Plan, adopted in 2004.
View 2011 Official Community Plan
2017 Official Community Plan Consultation
Vancouver Island University students are partnering with the District of Ucluelet to host public consultation events to check in with residents on current Official Community Plan (OCP) goals, objectives and policies to inform the new OCP update.

We have already completed several exciting rounds of public participation, including:
Ukee Days parade float and informational booth—July 22-23,2017
OCP Open House event—November 26, 2016
An online survey—Open from October-November, 2016
World Café event—October 29, 2016
ANAF Autumn Artisan Market Table—October 7, 2016
Planning on the Streets Day—October 1, 2016

For details on these and upcoming events, please check out our OCP website:
Click here to view the OCP Mini Site
But, that's not all. We have more participation events planned for the summer:
An online survey—Open from July-August, 2017
OCP Open Community event—Saturday, August 20, 2017
Ucluelet Sunday Market—August 27, 2017
We look forward to hearing from you!
For more information, please contact:
Kyle Wardstrom This email address is being protected from spambots. You need JavaScript enabled to view it.
OR
Peter Thicke This email address is being protected from spambots. You need JavaScript enabled to view it.