Official Community Plan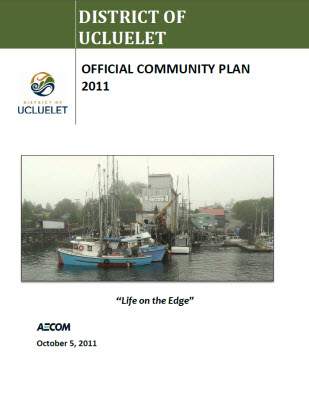 The purpose of the Official Community Plan (OCP) is to provide a long term vision for the District of Ucluelet. It sets out broad objectives and policies that will guide planning and land use decisions within the District, while respecting the community's existing character. The OCP charts a growth management course that supports Ucluelet's quality of life, enhances economic prosperity and advances environmental sustainability.
The Province of British Columbia's Local Government Act provides the authority and direction for the preparation of the Official Community Plan. Once adopted as a bylaw, an Official Community Plan has a legal status that requires that all subsequent bylaws enacted and works undertaken be consistent with the plan. The 2011 Official Community Plan replaces the previous Official Community Plan, adopted in 2004.
View 2011 Official Community Plan
2016 Official Community Plan Consultation
Vancouver Island University students are partnering with the District of Ucluelet to host a multi-event consultation to check in with residents on current Official Community Plan (OCP) goals, objectives and policies.

The following events are planned for this fall:
Saturday, October 1: Planning on the Streets event, 10 am – 2 pm
Several teams of two to three students will be placed at key locations in Ucluelet to conduct a brief survey of residents. Students will explain the role of the OCP in guiding future development and setting policy to tackle issues of concern to residents. The survey will ask residents what they value most about their community and would like to see retained or strengthened, and what they see as issues or challenges they believe need to be addressed.
Friday, October 7: ANAF Autumn Artisan Market, 4 pm – 8 pm
Members of the District of Ucluelet Council will host an informal table to check in with residents on current OCP goals, objectives and policies.
October through November: On-line survey
Students will design an on-line survey to explore topics that come up during the Planning on the Streets event in greater depth.
Click here to complete the OCP Review 2016 On-line Survey
Saturday, October 29: World Café event, 10 am – 12 noon and 1 pm – 3 pm
Two World Cafés will be held to engage community members in small group discussions on specific issues that develop out of the Planning on the Streets event. Residents will be invited to explore ideas and suggestions to celebrate what's great about Ucluelet, and to address what needs some work. The World Café will be help at the Ucluelet Community Centre, 500 Matterson Drive, Ucluelet.
Table topics for group discussion will include:
Greenhouse Gas Emission Targets, Policies and Actions
Heritage and Culture, Natural Environment
Development Permit Areas (DPAs)
Transportation and Water Services
Land Use Designations: Village Square, Parks, Trails and Open Spaces
Housing and Commercial
Industrial, Institutional and Comprehensive Developments
Riparian Area Regulations (RAR)
Sewage Treatment, Waste, Recycling and Emergency Services
Saturday, November 26: Kitchen Table Meetings and Open House, 1 pm – 4 pm
Small groups of students will hold a series of Kitchen Table meetings with any group interested in gathering together. At the same time, a larger group of students will hold an Open House to share "What We Heard So Far" to keep the community up to date and offer a different format for collecting information. The Open House will be help at the Ucluelet Community Centre, 500 Matterson Drive, Ucluelet.
Date TBA : 2017 Council Meeting
The students will transcribe the results of the in-person and on-line surveys, the World Café and Kitchen Table discussions and produce a summary report for the District. Students will present the findings of the consultation process to Mayor and Council at a meeting in early 2017.
For more information, please contact:
John Towgood (Planner 1)
Planning and Building Department
District of Ucluelet
Main Street
Ucluelet BC V0R 3A0
Tel: 250-726-7744