LED Street Lighting Replacement Strategy
Why Consider Changing to LED Street Lighting?
The Planning and Building Department is piloting the use of light emitting diode (LED) bulb technology as an alternative replacement to high pressure sodium (HPS) street lighting.
The existing HPS street lighting produces significant glare and contributes to light pollution effects and non-dark sky compliance.
The benefits of converting to LED street lights include:
• Increased vehicular and pedestrian safety through better visibility, object recognition and color performance
• Reduced energy costs
• Reduced maintenance costs due to the longevity of LED lights
• Estimated savings of $106,369 over 15 years
• Reduced carbon footprint for the District
• Enhanced night sky viewing opportunities
• Reduced glare
The disadvantages of changing to LEDs can be mitigated by retrofitting all fixtures within an area, rather than replacing on a fixture by fixture basis. This prevents uneven lighting effects and 'tiger stripes' that can interfere with driver's vision. The initial cost investment of changing to the new technology is offset by longer term savings.
LED Street Lighting Pilot Project Areas
Three locations within the District's boundary are piloting either new LED bulbs in existing light fixtures, or new light fixtures with LED bulbs.
Feedback is sought from local residents and businesses on the look and feel of these pilot locations in order to determine how the District should proceed with implementing LED lighting.
The three pilot locations are:
1. Forbes Road
2. Matterson Drive
3. Peninsula Road (near Little Beach)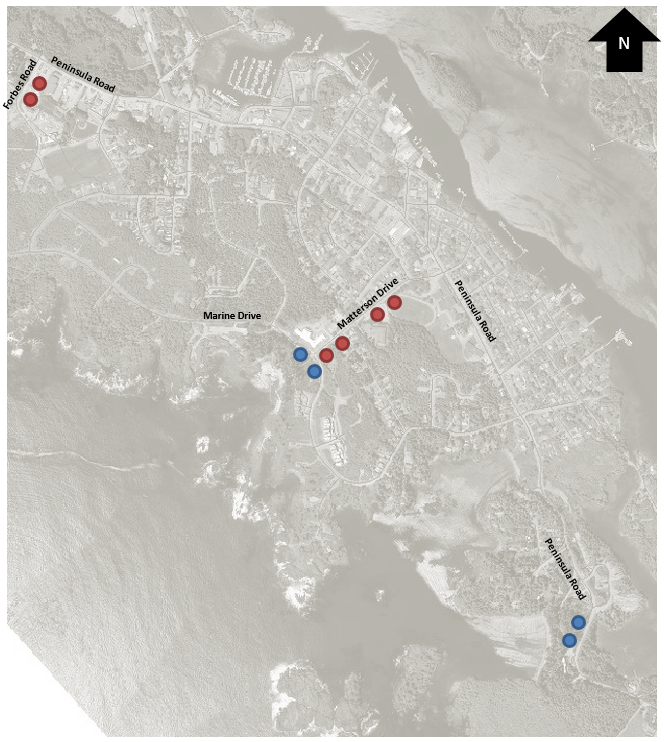 LED Bulb Replacement in existing street light fixtures at Matterson Drive and Forbes Road (Red Dots on Map)
LED bulb replacements in existing street light fixtures are in locations along Forbes Road and Matterson Drive. Examples are shown in the images below: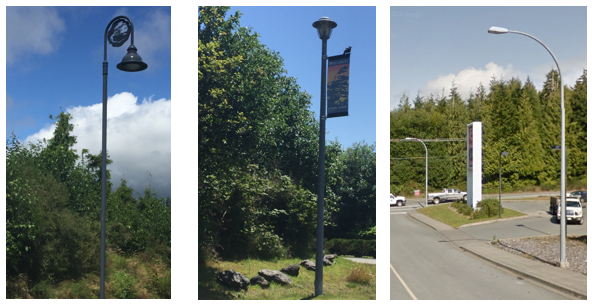 Existing Fixture Replacement on Pensinsular Road and Matterson/Marine Drive Junction (Blue Dots on Map)
New LED light fixtures replacing existing designs are located at the junction of Matterson and Marine Drives, and also at the Peninsula Road location near Little Beach. Examples are shown in the images below: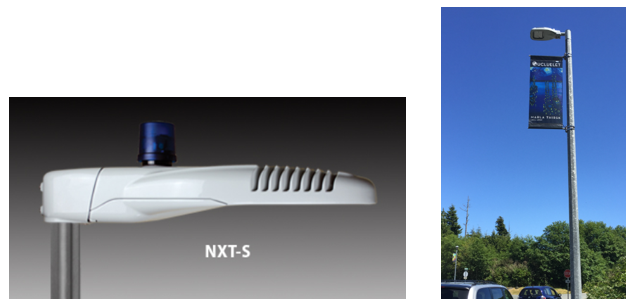 Public Consultation
The Public Consultation has now finished. Surevey responses are being collated and will be presented to Council at a future meeting.
For more information, please contact:
John Towgood (Planner 1)
Planning and Building Department
District of Ucluelet
Main Street
Ucluelet BC V0R 3A0
Tel: 250-726-7744